Natural Balance Dentistry® With Dawn Darnell
Dentistry is much more than filing down sharp points on the teeth. A good equine dental practitioner must be able to recognize not only the big things, but also the minute details that may indicate some other problem. This is the foundation of Natural Balance Dentistry.
Natural Balance Dentistry brings your horse's comfort and performance to a new level.

Natural Balance Dentistry focuses on restoring bio mechanical motion of the jaw, bringing comfort and balance to the TMJ. From increasing muscle mass and maximizing performance to optimum dietary absorption, from comfort to balance, it all starts with the mouth.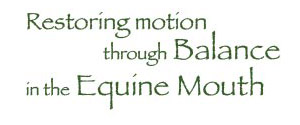 Natural Balance Dentistry makes adjustments with hand instruments that are designed to fit the horses mouth and maintain proper angle of the molar tables. It is accomplished in a relaxed environment, providing a comfortable experience for both you and your horse. All the work is done with the horses head in a natural relaxed position, ie: no restraints, no soft tissue injury.
Routine Care And Maintenance
Dentistry is often the most overlooked health practice we can provide for our horses. A common misconception is that if a horse is not showing any of the outward behaviors, it does not require dentistry. Yet it can be the simplest, and most affordable step to improve health, maintain well being and even extend life. On the other hand, poorly done or neglected equine dentistry contributes to pain, lameness, poor nutrition and leads to neurological imbalance with a host of negative ramifications. Every horse deserves a complete dental exam on a regular basis.
Most equine dentistry involves prevention. If your horse's teeth are regularly cared for, the maintenance process will not be overwhelming and you should be able to avoid most dental or health complications. Each horse is an individual, and Natural Balance Dentistry considers the whole horse and all of its environmental factors in developing a maintenance plan.
Dawn Darnell

Certified practitioner in Natural Balance Dentistry®
Trained under Spencer LaFlure of Advanced Whole Horse Dentistry Learning Center.