Welcome to First Light's Run, Horse Retirement and Layover Boarding
In Beautiful South Central Kentucky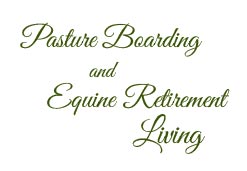 At First Light's Run, we try to give your horse the most natural living style possible, while making sure they have what they need. We now have two farms with over 200 acres of beautiful rolling land in south central Kentucky. Our fenced pastures range in size from 6 to 55 acres where horses live a peaceful stress-free life in 3-15 member herds.
Just Visitiing Kentucky?
Take a look at our expanded Layover Boarding facilities. Whether your are looking for over night or a vacation destination, we have a place you'll love to call home.
Clinic Venue
Our Dripping Springs Road farm is perfectly suited for hosting clinics year round. Facilities include a lighted 210x140 outdoor arena and an indoor areana. We also have an air conditioned/heated meeting room with a full kitchen for presentations and breaks. The barn is equiped with a bath room and shower. There are ample trailer hookups and stalls for your participants. Call us for rates and scheduling.
At First Light's Run Farm, Being Put Out To Pasture Is a Good Thing